Silver Balloon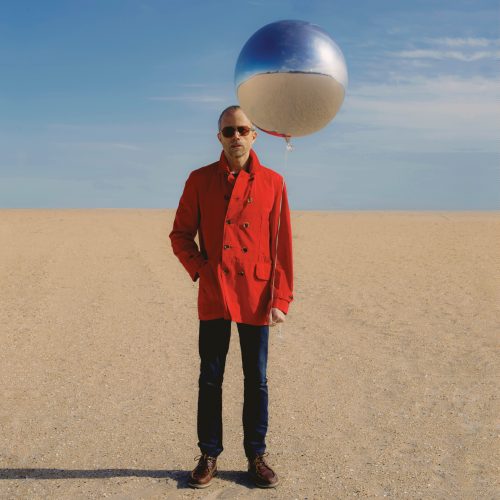 Produced by Jesse Harris and Kenny Wollesen
All instruments played by Kenny Wollesen and Jesse Harris
with:
Mads Jensen – harmony vocals
Michael Blake – tenor saxophone ("Hummingbird")
All songs written by Jesse Harris (Beanly Songs/Sony Music Publishing) c 2021-22
except "Shadow" by Jesse Harris c2008 and "On This Lonely Night" music by Jesse Harris; lyrics by Jesse Harris and Mads Jensen c2021
Recorded and mixed by Jesse Harris at Secret Sun West, NYC
Mastered by Stephen Marcussen
Photos by Oriana Layendecker
Artwork by Rory Wilson
c2022 Secret Sun Recordings, LLC
Jesse Harris Silver Balloon Bio

When songwriter and producer Jesse Harris set about writing and recording 'Silver Balloon,' he was enamored with the esteemed science fiction author Philip K. Dick. "I love how he bends reality, and I wanted to do the same in the music," Harris says. "The world feels so chaotic these days, and it was as though we – Kenny Wollesen and I – needed to express it, even embrace it." And while chaos preoccupies the lyrical content of Silver Balloon — a collection of 10 exquisite songs assembled like miniature Goldbergian contraptions whose machinations, while beautiful, confound expectations — it also embodies the spirit of its recording.

"Almost all of my other recordings were made live with a band, aspiring towards hi-fi recording, but on this one we played to drum pre-sets of old keyboards, processed sounds through vintage harmonizers, and layered the songs as we went along," Harris recalls of the process, listing just some of the tools he used to dismantle any notion of staid tastefulness. "At first Michael Blake hated what we did to his saxophone on 'Hummingbird.'"

Harris recorded Silver Balloon over eight days in his home studio with percussionist Kenny Wollesen, a collaborator of 30 years. They would start casually at around 1pm and by 7pm, having recorded a complete song, go out to dinner at Frenchette down the block, come back and work some more. On two mornings Harris recorded a solo acoustic song ("One In A Million" and "The Good Morning Song") in addition to the song of the day, over which Wollesen would add overdubs — and of course run them through the H3000 Harmonizer, a piece of outboard gear first designed in the 70s and used frequently by artists such as Laurie Anderson, and later by guitar gods like Steve Vai. "People have asked me and Kenny what we did to the guitar on 'The Hanged Man' and the honest answer is we don't know. Often the H3000 would seem to make decisions on its own, and we began to see it as a kind of medium."

When the two first met in 1993, Harris was 23 and Wollesen was 27. "Kenny played on my first album. Since then we've worked together in a lot of groups and shared a lot of stories." For instance, Harris tells of a show of Kenny's at the University of North Texas in Denton (Harris was driving through en route to California) when a cool 19-year-old student in a blue 1971 Cadillac picked up the band from the hotel. Later that night, she jammed with them and turned out to be a brilliant singer: Norah Jones. Harris went on to play guitar on and write five songs for her debut album, including the GRAMMY-winning modern standard "Don't Know Why," while Wollesen contributed drums. Over time, Wollesen has appeared on many of Harris's projects, including the soundtrack for Ethan Hawke's The Hottest State, a collection made up of Harris's songs covered by artists like Cat Power, Willie Nelson, Bright Eyes, Feist, and The Black Keys, among others.

"When I met Kenny he had just played on Tom Waits's Black Rider and was in the scene with Marc Ribot and John Zorn. Unlike most of the jazz musicians I knew at the time, he was obsessed with blues and Dylan. When we hung out, we'd listen to Muddy Waters and Lightnin' Hopkins."

In 2019, Harris built a mobile home studio and started recording artists, most of whom he has released on his label, Secret Sun Recordings. He produced Maya Hawke's debut album, Blush, and her singles "To Love a Boy" and "Stay Open;" part of Toth's second album; Cosmo (Harris's instrumental band); and John Zorn's Songs For Petra, among many others. Then the pandemic hit. "Without live shows, all musicians could do was record. Since I couldn't bring in engineers, I had no choice but to learn to record artists myself." When he started producing singer Mads Jensen, who sings harmonies throughout Silver Balloon, he had to do it in a new way. "We didn't start with completed songs. Kenny was around and free – which never happens – so we began experimenting – just the three of us. She'd come in with a fragment or a concept and we'd build the music from a drum machine part or loop, add the bass, and Mads would sing to the structure we'd created."

"I decided that eventually I would try recording some songs with Kenny using the same process. And when we started, I never planned to mix it myself, but we grew so attached to the sound and were afraid someone would make everything too correct and get rid of the chaos." Harris started with a handful of songs already written but was so inspired by what he and Wollesen were doing that he wrote four more songs during the time of the sessions, even recording one the same day he wrote it. "I woke up at 6am, grabbed my guitar, wrote 'Out In The Storm' in bed and recorded it with Kenny that day."

They ran Harris's vocals through the H3000, an eccentric vocal production tool that lands somewhere between Nuggets-era garage psych and modern autotune. "Kenny would play the drum machine live, so most of the drums are performances rather than loops. He'd trigger fills using the buttons. Then he'd play live drums over that. We'd turn on effects to random settings and embrace whatever occurred. If either Kenny or I loved something, we'd keep it — in fact, if either of us loved something, the other would acquiesce. There was no disagreement."

This process is perhaps most clear on album opener "The Hanged Man." Harris sings softly and sweetly but with an added sci-fi element. The bass holds down the chords but the rest of the space is filled with unidentifiable instruments swirling through unfamiliar effects. The guitars sound like they're being played backwards, but the listener can't be sure. It sounds wild but improvised, like an electronic Astral Weeks.

On "Out In The Storm" the percussion simulates the chaos of weather. We can follow the guitars and keyboards, but the percussion is mixed loud, feels industrial, like the breathing of a factory. At points, the song's percussion storm has the violence of Nine Inch Nails. And, through the effects, Harris's voice can feel like David Lynch's singing on his own similarly bizarre dreamscape recordings. When he sings, "No place to escape the rain, you dash out on the street again," we gather that this storm isn't just weather.

Though the recording style is new, Harris's refined songwriting style is still everpresent. On "Hummingbird," the most beautiful melody on the album, Harris writes what initially feels like a classic jazz standard in 32 bar form, accompanying himself with a simple yet elegant guitar part. But Wollesen adds a distorted drum machine beneath it, louder in the mix than you'd ever expect. At points, he seems to be playing radio static as an instrument. The horns are sent through effects, the sax solo collapsing on itself with random moments of distortion that could never be recreated. "On This Lonely Night" has echoes of early Leiber and Stoller; Wollesen's raw swing and Harris' slide guitar further shows their obsession with blues and early rock and roll.

The album ends sweetly with "Shadow," a song Harris first recorded in 2008 but had always wanted to re-record. It features one of the album's most disarming moments: a harmonica riff melds back and forth with errant digital detritus, played in a similar rhythm until we've lost track of what's organic and what's synthesized. It surely isn't lost on Harris that this feeling is straight out of a Philip K Dick novel: uncertainty about what's humanity and what's electricity. Harris ends the album with a sung question: "Won't you tell me what you're gonna do when your shadow catches up with you?" Perhaps the only thing to do, in Harris's case, is make an album like Silver Balloon: to embrace the chaos and spin some beauty out of the maelstrom.
THE HANGED MAN
Look at the hanged man
Floating in space
Upside down flowers
In an upside down vase
Can't look behind him
Can't look ahead
Or blink in the sunshine
Or sleep in his bed
Two lovers stand side by side
On a mountain
Tracing the stars
Racing clear across the sky
Try you won't find him
Alone in his cave
Hearing the ocean
Crash wave after wave
No you can't help him
Caught in a storm
Parting the clouds
And waiting to be born
Two lovers stand side by side
On a mountain
Tracing the stars
Racing clear across the sky
Look at the hanged man
Floating away
Chasing the memory
Of a long lost day
Chasing the memory
Of a long lost day
Chasing the memory
Of a long lost day
YANKEE
Yankee
Suffering southern heat
But not for long
Be kind
Tell me what's on your mind
Before you're gone
Why are you flying home so soon
To the cold white northern moon?
Yankee
Falling into the sea
What will you do?
Be strong
Tell me is something wrong
But tell me true
Are you tired of lying in the shade
Waiting for the sun to fade?
Yankee
Stay with me
I can be
More than I've been
Someday
On a gray rainy day
You'll thank me then
Are you really going soon
To the cold white northern moon?
Yankee
Stuck in the southern heat
What will you do?
Be kind
Tell me what's on your mind
But tell me true
OUT IN THE STORM
The cars race down the freeway
The sun sinks fast at midday
Out in the storm
Out in the storm
Wind blows through open windows
Dust flies in small tornadoes
Out in the storm
Out in the storm
Breaking
Breaking
People try to run ahead
Newspapers held on their heads
And I walk slowly
And I walk slowly
The night comes much too soon
A dark sky without a moon
Out in the storm
Out in the storm
Thunder, a crash of lightning
As if the sun was shining
Out in the storm
Out in the storm
Raging
Raging
Raging
Raging
No place to escape the rain
You dash out on the street again
And I walk slowly
And I walk slowly
And I walk slowly
And I walk slowly
ONE IN A MILLION
One in a million
How lucky we should meet
And from now on we'll never part
One in a million
Is something rare to see
You're one in a million
And the only one in my heart
That you exist is a miracle
O' wondrous world of wondrous people
One in a million
It makes me sad to think
If I'd passed you out on the sea
One in a million
Like ships our dreams can sink
You're one in a million
And the only one for me
You're one in a million
And the only one for me
HUMMINGBIRD
Hummingbird kiss the crown
Of the blossom leaning down
Hummingbird do you know I'm here
Watching you floating free
I see you
You don't see me
Hummingbird I can only stare
Like an angel you will fly away somewhere
In the sky somewhere and disappear
Before you sing me a song
Suddenly you are gone
Hummingbird were you even there?
Like an angel you will fly away somewhere
In the sky somewhere and disappear
Before you sing me a song
Suddenly you are gone
Hummingbird were you even there?
ON THIS LONELY NIGHT
Don't try to confuse me
With your eyes full of tears
It's been hard enough to gather
My strength through the years
All your sweet affection
Like a blinding light
Doesn't fill the space beside me
On this lonely night
But don't worry
It's alright
Much too late to make it right
Make it right
Once I dreamed of walking
With you right by my side
Up and down the hills and valleys
But we never tried
No don't hurry
Take your time
Couldn't ever make up your mind
No don't worry
It's alright
It's much too late to make it right
Make it right
Don't try to confuse me
With your eyes full of tears
Don't want to remember
Who I lost through the years
Who I lost through the years
Who I lost through the years
Who I lost through the years
NEW YEAR'S DAY
Close your eyes
Kiss your hand
And run away
Without a plan
On New Year's Day
New Year's Day
Write your name
In the sand
To wash away
Your shame again
On New Year's Day
New Year's Day
Every street you walk is empty
No one hears a word that you say
New Year's, New Year's Day
The year will end
As it began
If you don't stay
To understand
On New Year's Day
New Year's Day
SILVER BALLOON
You sleep with the rising sun
And wake when the day is done
You laugh until you're crying
While your silver balloon keeps on flying
You pray but don't believe in dreams
You say they don't mean anything
You lie but keep denying
While your silver balloon keeps on flying
How many years will go by?
How many times can you try?
You wait with open eyes
For signs of life inside
You breath to keep on sighing
While your silver balloon keeps on flying
While your silver balloon keeps on flying
THE GOOD MORNING SONG
Good good morning
Hope you slept
Good good morning
Hope you dreamt
Of princesses with pony tails
Who run away in fairy tales
So nice to have you back again
So nice to have a brand new friend
Come floating out of misty air
Two days inside a brand new year
Good morning
Good morning
Since life is not a fairy tale
But dark clouds charged with rain and hail
And princesses in purple gowns
Can lose their step and break their crowns
If I could wave a magic wand
With music by Michel Legrand
I'd wake beside you by a stream
Under the stars and watch you dream
Good morning
Good morning
Good morning
Good morning
SHADOW
Gone this far
It's too late to turn back
Gone this far
It's too late to turn back
And the sky has turned from blue to black
Turned it on
But you can't turn it off
Turned it on
But you can't turn it off
And it grips you like a fatal cough
So tell me
What you're gonna do
Won't you tell me
What you're gonna do
When your shadow catches up with you